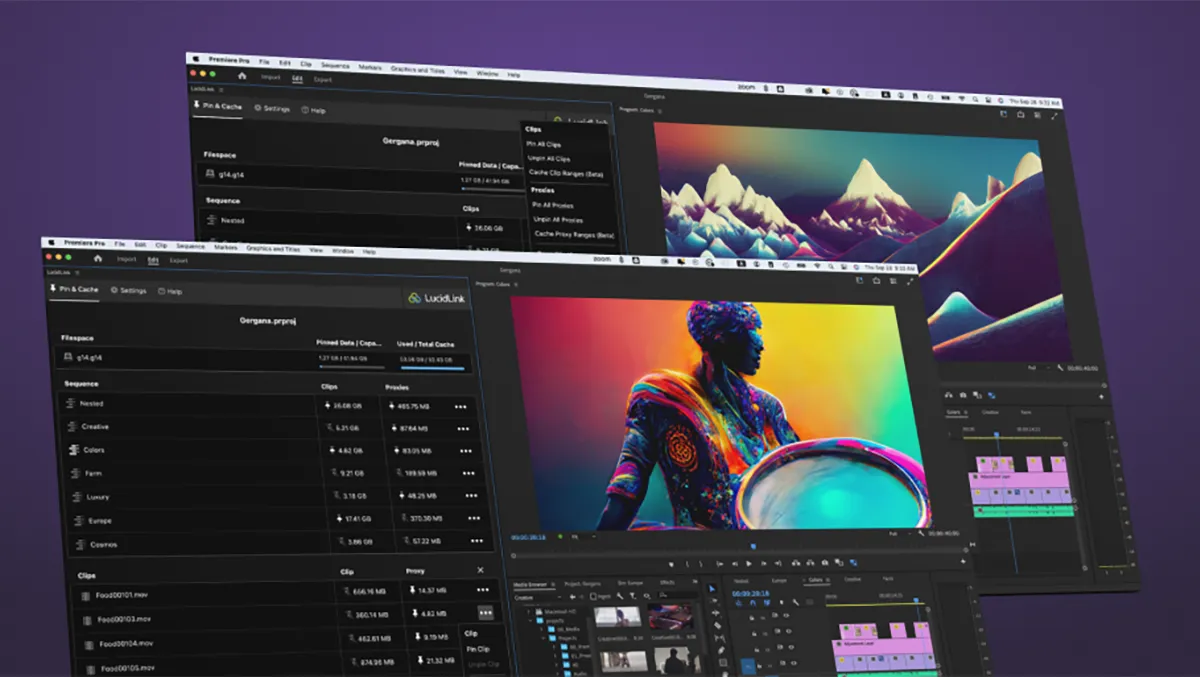 LucidLink launches efficiency tool for Adobe Premiere
LucidLink, an innovator in high-performance remote collaboration storage for the world's largest studios, brands, and creative professionals, has announced that the LucidLink Panel for Adobe Premiere Pro editing software is now available for general download.
The LucidLink panel integration within Premiere Pro offers creative editors a more efficient editing experience. It enables them to cache only the media needed directly within the Premiere Pro application, thus, providing a faster and more seamless experience.
The LucidLink Panel for Premiere Pro, previously showcased at IBC 2023 in Amsterdam, has been beta-tested by a slew of creative professionals who rely on Adobe Premiere Pro for their creative process.
Brian Cibula, president of Supersweet Motion Picture Productions, a company that uses LucidLink for their productions in various capacities, has labelled the integration as a "game-changer". He said, "Our business runs on Adobe software, and the integration of the LucidLink Panel into Premiere Pro has been a game-changer for our teams when they are out on the road and unable to transfer creative assets using conventional methods of transfer and download."
Katie Wade, US Head of Post Production at Casual, a global video content production studio for enterprise-level businesses, highlighted the panel's influence on time management. She stated, "Using the LucidLink Panel for Premiere Pro means we don't need to pin entire media folders, just the relevant content needed in a specific timeline. With this new integration, our machines and our editors can focus on much more manageable media pools, saving time on the overall edit while also spending more time creating."
The LucidLink Integration for Adobe Premiere Pro boasts key features such as Proxy and High-Resolution Workflow Intelligence, Optimized Performance, and Real-time Indication. These features facilitate a seamless offline-to-online editorial workflow, optimise Premiere Pro settings for peak performance, and aid in the pinpointing of content during the pinning or caching process, respectively.
Speaking on the recent development, Peter Thompson, CEO and co-founder of LucidLink, said, "We are thrilled creatives have found so much value in our first integration of LucidLink into a creative tool... Real-time cloud collaboration is revolutionizing media creation, enabling creatives to focus on crafting captivating content. LucidLink delivers this seamless experience to collaborative teams worldwide today."
Founded in 2016 and supporting over one billion customer files across more than 40 countries, LucidLink aims to empower creative professionals by providing them with rapid enhancement in collaboration and instantaneous access to files and the creative apps they use. The cloud-based solution is designed to support workflows from video and audio production to graphic design and more.